Steam Sterilizer sales price
Steam sterilizer principle is:in a closed steamer,the steam cannot overflow,and the pressure rises continuously,so that the boiling point of water is continuously increased,so that the temperature in the pot also increases.At a pressure of 0.1 MPa,the pot temperature reached 121°C.At this steam temperature,various bacteria and their highly heat-resistant principle can be quickly killed.
Steam sterilizer note:The air in the pot is completely eliminated,so that the pot is saturated with water vapor,and sterilization is complete.There are several different approaches to autoclave deflation,but the goal is to drain the air so that the pan warms up evenly to ensure complete sterilization.Commonly used method is:close the air release valve,after the power is turned on,when the pressure rises to 0.05 MPa,open the air release valve,release the air,wait until the pressure gauge pointer returns to zero,and then close the air release valve. After closing the valve and reenergizing,when the pressure gauge rises to 0.1 MPa, the timer is started and the pressure is maintained at 0.1 to 0.15 MPa for 20 minutes.
Automatic,with drying
Steam sterilizer hand wheel quick opening safety chain device structure
Material: pot shell,inner cavity made of high quality stainless steel SUS304,acid,alkali,corrosion resistance
Microcomputer intelligent automatic control
Pressure safety interlock device,over-temperature automatic protection device
Self-expanding sealing ring automatically discharges cold air
Overpressure self-discharge,low water level alarm,automatic control of water cut off
Temperature range(109-135°C),sterilization time range(0-99 hours),drying time range(dry after sterilization)(30-240min)
Automatic water inlet,heat sterilization,steam discharge,drying.The buzzer reminds and stops automatically after the work is completed
1:working environment temperature 5°C~40°C,relative humidity less than 85%,atmospheric pressure 70Kpa~106Kpa.
2:This device is a fixed connection type,external power supply for AC single-phase AC220V,50HZ
3:The type size of this device.
4:This device is quick-opening type,equipped with interlocking devices,and a warning light alarm.
5:The device's pressure Indicator is from -100Kpa~300Kpa,and the atmospheric pressure reading is 0.
6:The control system of this equipment is controlled by a microcomputer.It has functions of water level,time, temperature control, water cut off,over temperature alarm and automatic power off.The low water level has double protection function.
7:The device is marked with a variety of warning signs in prominent places to remind the operator,please read the random files carefully to master the operation essentials.
8:The maximum working pressure of this equipment is 0.217Mpa,no noise is generated under normal operating conditions.
9:The device has a reliable protective grounding and has a clear grounding mark.
10:The bottom of the equipment is equipped with a lower steam valve.When the sterilization is use the steam exhaust valve to make the sterilized items drier.(except solutions).
Sterilization and drying process
a:Sterilization temperature dropped to 102°C,steam release and drainage
b:Venting and drainage after sterilization and sterilization
c:Sterilization, steam release,drainage, drying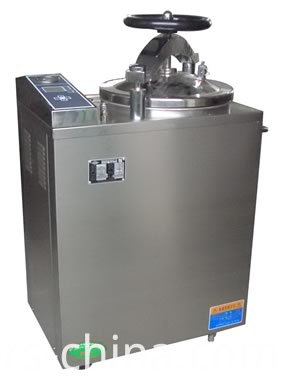 Looking for ideal Steam Sterilizer Sales Manufacturer & supplier ? We have a wide selection at great prices to help you get creative. All the Steam Sterilizer Wholesales are quality guaranteed. We are China Origin Factory of Steam Sterilizer Wholesale. If you have any question, please feel free to contact us.
Product Categories : Medical Sterilizer > Steam Sterilizer