Medical Sterilizer sales price
Plasma medical sterilizer can perform both low temperature sterilization,Plasma Sterilizer of metal medical devices and Medical sterilizer,Medical sterilizer of non-metallic medical devices.Medical sterilizer is sterilized by diffusion of hydrogen peroxide in the chamber and then"inspire"hydrogen peroxide into a plasma state.Plasma sterilizerhydrogen peroxide vapor combines with plasma to safely and quickly sterilize medical devices and materials without leaving any toxic residues.all phases of the sterilization process are run in a dry,low-temperature environment,so that instruments that are sensitive to heat or moisture are not damaged.Medical Sterilizer are suitable for both metal and non-metallic devices and can be difficult to reach for such things as hemostatic clamp hinges. The parts of the instrument are sterilized.
1.Medical sterilizer articles and materials that can be sterilized:metal instruments,hysteroscopes,laparoscopes,laryngoscopes,probes,rigid endoscopes,hose endoscopes,ophthalmic lenses,fiber optic cables,intracranial sensors,cold probes,Prostate resectors,esophageal dilators,electrocautery devices,defibrillation motors,laser heads,metals,glass,silicones,and rubbers.
2.Medical sterilizer articles and materials that cannot be sterilized:incompletely dried articles,disposable articles,liquid-attracting articles or materials,an enclosed cavity,liquid or powder,instruments that cannot withstand vacuum,and the use of pressure only Steam-sterilized instruments and instruments have internal parts,articles that are difficult to clean,made of cellulose-containing materials,or any other articles and implants that contain wood pulp.
3,Medical sterilizer consumables:plasma biological Indicator,Hydrogen Peroxide Sterilizer,chemical indicator(card),non-woven fabrics,special packaging bags.
1)Hydrogen peroxide solution Properties:The sterilizing agent used in this device is a 60% hydrogen peroxide solution that can inactivate resistant bacterial spores.Hydrogen peroxide is a colorless liquid with strong oxidizing properties and its aqueous solution is weakly acidic.Hydrogen peroxide solution is an explosive strong oxidant
2)Low-temperature plasma hydrogen peroxide sterilize self-contained biological indicators for detecting the sterilization effect,using Bacillus stearothermophilus(ATCC7953)as an indicator. It consists of bacteria,medium(sealed in a glass tube)and a plastic shell.Strain spore content≥1.0×106 cfu.At a temperature of 50°C±0.5°C,a relative humidity of 60%±10% RH,and a sterilization condition of 2.3 mg/l±0.4 mg/l H2O2,the D value was 0.75 to 8 seconds.
3)The plasma sterilization indicator card is made of thermal sensitive chemical substances,color developing agents and auxiliary materials.The ink is printed on a special card printed with a standard color block(beige or yellow),indicating color blocks(Grass green).Hydrogen peroxide is applied to reach the required temperature in the sterilizer,and it acts for a specified time to indicate that the color block changes from grass green to yellow or yellow,indicating sterilization.
4)Nonwovens,also known as nonwovens,consist of oriented or random fibers.Because of its cloth's appearance and certain properties,it is called cloth,which is mainly used for packaging instruments that need to be sterilized.
5)One sided paper(DuPont Tyvek Tyvek Paper/French medical dialysis paper/British medical blister paper)+one side of the composite plastic film,the medical device is put into the packaging bag(product),and then sealed and sterilized.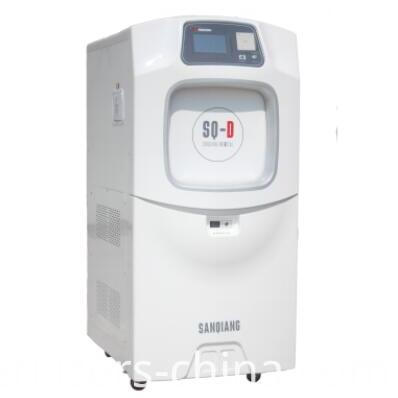 Looking for ideal Medical Sterilizer Sales Manufacturer & supplier ? We have a wide selection at great prices to help you get creative. All the Medical Sterilizer Price are quality guaranteed. We are China Origin Factory of Medical Sterilizer Wholesale. If you have any question, please feel free to contact us.
Product Categories : Medical Sterilizer > Plasma Sterilizer