Vertical drying cabinet is a drying cabinet developed specifically for low-temperature plasma sterilizers.Plasma sterilizers must maintain the dryness of the sterilized instruments when they are sterilized,and therefore require a Plasma Sterilizer for sterilization.All instruments must be dried for plasma sterilization.
The Medical Drying Cabinet is a kind of drying equipment commonly used in hospitals to dry surgical instruments, glassware,and respiratory treatment items.It replaces the old-fashioned drying method and satisfies the department's need for rapid drying of a large number of manual cleaning devices.
The operation is simple and flexible,the drying temperature setting range is 40°C~ 90°C,the drying time setting range is 1min~999min,the user can freely set according to demand, the device has a single door and double door
PBT fire protection cores and important items in the cabinet are safer.
Vertical drying cabinet special pressing tight door:anti-static pressure handle with concealed lock or pressure handle hidden lock,unique closed fire protection tape.
The cabinet body adopts 1.2mm extra thick double-layer paint anti-rust steel plate to prevent forward-rotation structure design.
Humidity range 20%~60%,10%~20%,1%~10%RH automatic
Door-mounted 3.2mm high-strength tempered glass
Vertical drying cabinet high Load Adjustable Laminate: 200kg load,making the cabinet safer.
The Vertical drying cabinet of the plane pressure handle lock allows the operator to open or close the door of the drying cabinet without difficulty.
Vertical drying cabinet use more care when using,follow-up maintenance is also essential.When cleaning the cabinet,pay attention to the following items:
1.Drying cabinet shell must be well and effectively grounded to ensure safety.
2.Do not put flammable, perishable or explosive materials in the drying cabinet.
3.After the drying is completed,turn off the power switch and damper.After the inside of the box is cooled to room temperature,take out the dry items inside the box and wipe the studio away.
4,the box should always be kept clean,long-term do not have to cover the plastic dust cover, placed in a dry environment.
5.Do not disassemble and modify the machine without authorization,otherwise there is danger of electric shock.
Drying is a necessary part of the hospital's disinfection supply center.Medical drying cabinets are indispensable and commonly used equipment.Pay attention to various details in use and maintenance,which is conducive to the normal use of equipment and reduce equipment failure,thereby improving the work flow and efficiency of the entire department.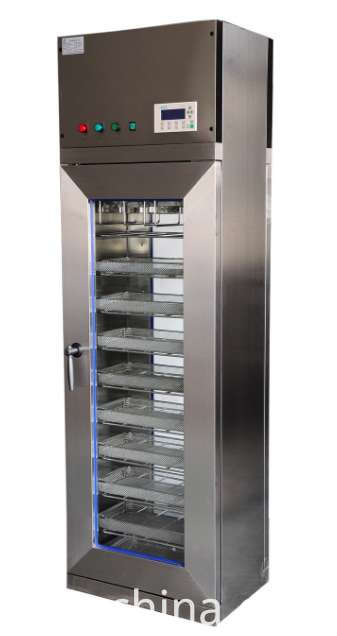 Looking for ideal Vertical Drying Cabinet Manufacturer & supplier ? We have a wide selection at great prices to help you get creative. All the Vertical Drying Cabinet Service are quality guaranteed. We are China Origin Factory of Vertical Drying Cabinet Equipment. If you have any question, please feel free to contact us.
Product Categories : Medical Sterilizer > Medical Drying Cabinet