Vertical Ethylene Oxide Sterilizer
Vertical ethylene oxide sterilizer operation flow
First,put a small gas tank into the hole, and then put the sterilized items;
Second,turn on the ethylene oxide sterilizer power;
Third, check the relevant pipeline is normal,whether the water source is open;
Fourth,put the items to be eliminated and close the sterilizer door;
5Turn the power switch to display the initial state.After stopping for 5 seconds,press the Start key.The digital screen displays the sterilization-related parameters.Then press the Start key again and the device will automatically run.
6.Display END.After sterilization is completed,remove the sterilized items and close the door.
7.Sterilization:It should be performed in accordance with the operating instructions of the manufacturer of Vertical ethylene oxide sterilizer;according to the types of sterilization items,packaging, loading and methods,choose the appropriate sterilization parameters.
1,the relationship between concentration,temperature and sterilization time: Within a certain range,the temperature increases,the concentration increases,can shorten the sterilization time.The temperature,concentration and time parameters must be properly selected when using ethylene oxide sterilization.
2.Control the Relative Humidity of the Sterilization Environment and the Water Content of the Articles:The water content of the bacteria and the water content of the sterilization articles have a significant effect on the sterilization effect of ethylene oxide.In general,the relative humidity is preferably 60% to 80%.Too little water content affects the penetration of ethylene oxide and the alkylation of ethylene oxide,reducing its bactericidal capacity;too much water, ethylene oxide is diluted and hydrolyzed,but also affect the sterilization effect.In order to achieve the ideal humidity level, the first step is that the sterilized material must be pre-wet.Generally,it is required that the sterilized material be placed in an environment of 50% relative humidity for at least 2 hours;in the second step, the humidifier can be used to ensure the ideal humidity in the cabinet.Level.
3.Note the effect of extracellular substances on sterilization:The more organic matter on the surface of bacteria,the more difficult it is to kill;organic matter can not only affect the penetration of ethylene oxide,but also can consume part of the ethylene oxide.Microorganisms in inorganic salts or organic crystals are difficult to kill with ethylene oxide.Therefore, before the ethylene oxide sterilization,the organic and inorganic dirt on the article must be fully cleaned to ensure the sterilization is successful.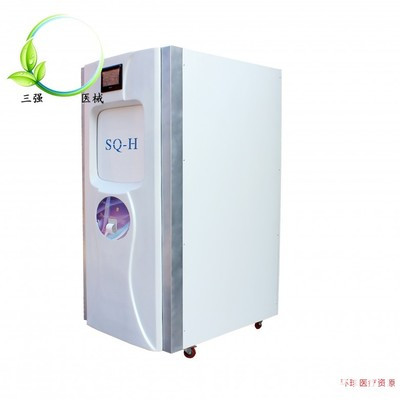 Looking for ideal Vertical Ethylene Oxide Sterilizer Manufacturer & supplier ? We have a wide selection at great prices to help you get creative. All the Vertical Ethylene Oxide Sterilizer Sales are quality guaranteed. We are China Origin Factory of Vertical Ethylene Oxide Sterilizer Wholesale. If you have any question, please feel free to contact us.
Product Categories : Medical Sterilizer > Ethylene Oxide Sterilizer